Our Campus
You'll find us in the heart of Glasgow's city centre where we're surrounded by supermarkets to suit all tastes, we have an abundance of high street stores along with loads of great little thrift stores, second-hand shops and boutiques, restaurants for every cuisine, clubs, theatres, museums - you name it, we have it.
We're transforming our campus, with investment set to reach £1 billion by 2025. We're creating a first-class working and learning environment for our students and staff.
New campus investment
Scotland's first innovation district
Glasgow City Innovation District is a hub for entrepreneurship, innovation, and collaboration. It builds on Scotland's rich tradition of scientific excellence and industrial collaboration.
Where innovation starts
Bringing together ambitious, forward-thinking people, the District is tackling societal and global challenges and driving inclusive economic growth.
Heart of Glasgow
Located in the heart of Glasgow City Centre, the District is home to many innovative companies and organisations who've located here to nurture and accelerate growth, improve productivity, and access world-class research and technology from the University.
With its world-class skills and talent base, excellent transport links, and reputation as a desirable city to 'live, work and play', Glasgow is the ideal place to create a thriving community of companies, researchers and innovation support organisations. These are the key principles of a successful innovation district.
Learning and Teaching Building
Strathclyde students are set to enjoy a new £60 million learning and teaching hub at the heart of our campus.
The flagship facility is being designed by students and staff to develop leading-edge teaching facilities, as well as providing a new home for student support services and the Students' Union.
Take a look at a fly-through video of our Learning & Teaching building:
This project, which represents our biggest single investment in a campus project to date, will become a beacon for teaching and learning excellence.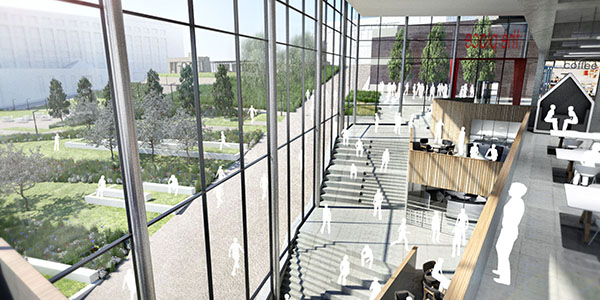 Our new facility brings together the former Architecture and Colville buildings. It will place student-facing services at the centre of the campus, and give access to new ways of teaching.
The new development will also meet the needs of our student population growing in size and diversity. There is a projected growth of 30% in the number of our overseas students over the next five years.